Here at Zeffert and Gold Catering (a not so small, family owned company), we love other small businesses. As if Main Street Ballroom is not gorgeous in itself, it is also small business. We want to give a huge shout out to Main Street Ballroom as they begin to welcome couples and their guests back to Ellicott City.  Since the flooding, they have expanded the space, adding in a space for wedding ceremonies, wedding cocktail hour, and even a grooms suite! Zeffert and Gold staff love being part of Main Street Ballroom Catering.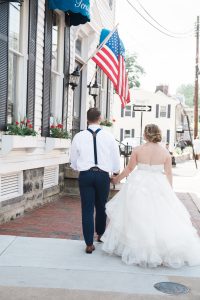 Our friend, Sara, at Sara Vars Photography shared pictures of Erica and Danny's  big day. Thinking of Ellicott City, as they work to rebuild once again, we HAD to take the opportunity to share these gems.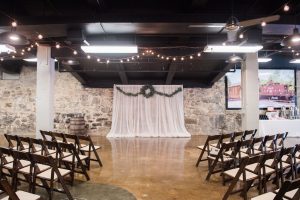 Above all, I absolutely loved working with Erica and Danny to help create their dream Ellicott City Wedding. I am pretty sure they chose the only sunny day in May.
Erica and her bridesmaids arrived early to utilize Main Street Ballroom's picture perfect Bridal Suite.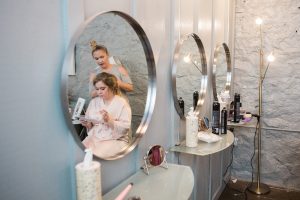 The day was perfect, and the wedding was perfect, down to the ceremonial shots the two exchanged as they said "I Do".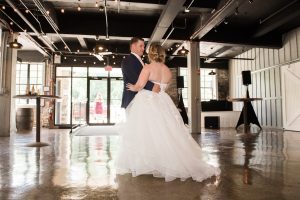 Long farm tables with greenery and candles everywhere matched the stone walls perfectly.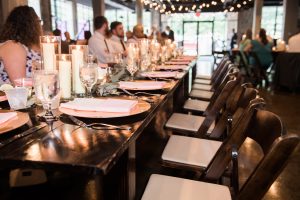 The couple wanted a unique menu – brunch!  Who doesn't love brunch? Bagels, Croissants, Quiche, Chef Carved Steak, WAFFLE BAR!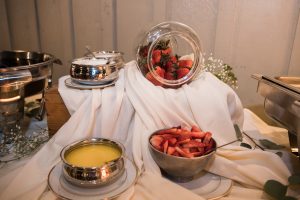 Finally, for dessert – DONUTS! Zeffert and Gold staff made donuts fresh, in front of guests, who then were able to top their donuts with various toppings.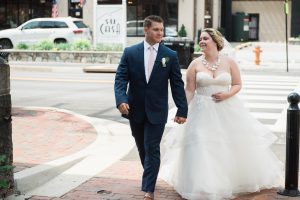 Thank you, Erica and Danny, for letting us help you celebrate your love! Thank you to Main Street Ballroom for all that you are doing. Certainly, Ellicott City Weddings are lucky to have you!
Vendors:
Venue – Main Street Ballroom
Photographer – Sara Vas
DJ – Frank Marsden
Rentals – Country Creek Farmhouse
Cupcakes – Kupcakes & Co