This past spring, we had the wonderful opportunity to cater a downtown Baltimore Assembly Room Wedding. This wedding was for Ilana and Mike, and 125 of their nearest and dearest. The Assembly Room is a recently renovated, spacious industrial venue. This space provides the perfect spot for the happy couple to have both their marriage ceremony and following reception. The clean lines and open architecture allow for versatile events, decor, and stunning photographs. Check out these photos, taken throughout the evening's event by Ilana and Mike's talented photographer, Jillian, of B.O.B. Photography.
Wedding Details
We are so honored to have been a part of Ilana and Mike's special day!  We love to discuss with the couple their vision for a dream wedding reception, and see it come to fruition. Our event planning style and menus allow us to customize options for the couple, to their preference. Ilana and Mike were able to make adjustments to their menu to suit their taste and guest's dietary preferences.  They even selected two signature drinks for their guests to enjoy throughout the evening. The charcoal and ivory linens provided a classic neutral background to allow their colorful decor and bridesmaids' dresses to pop!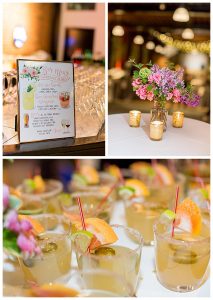 I love that every Zeffert & Gold event has a unique style and character.  If we have ten weddings at the same venue, 10 out of 10 will be different from every other. Don't you think that their signature Spicy Grapefruit Margaritas look so delicious, but almost too pretty to drink?
Every event designer hopes to see a bride, groom and their guests having a fantastic time at their wedding reception, after all of the hard work, planning, and time spent together to make it happen! Ilana and Mike's friends and loved ones enjoyed dancing throughout the evening, and this photo shows pure joy on Ilana's face, upon marrying the love of her life. I am so glad we were able to provide her with a sense of relief, knowing that she could relax and enjoy this most special occasion, while our team took care of the details, both large and small.