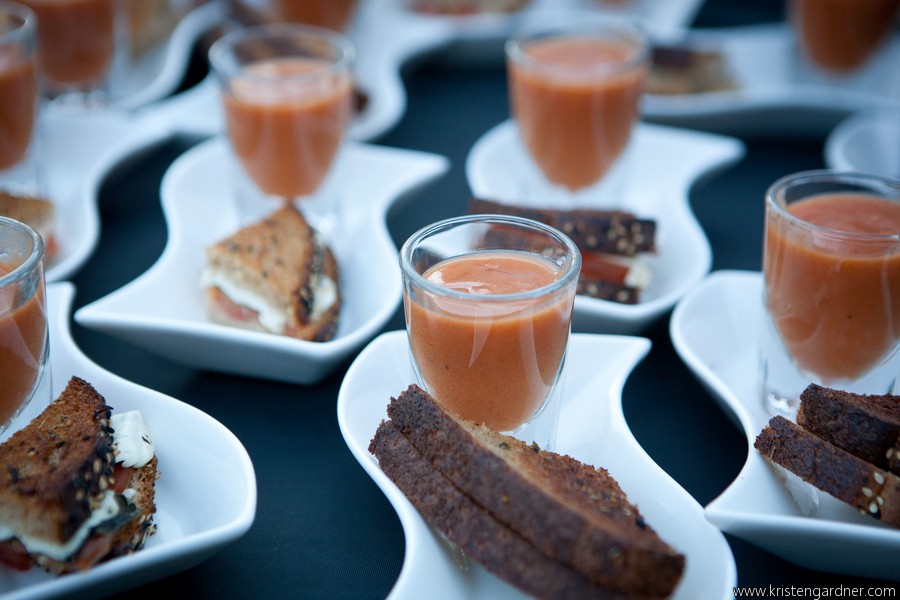 Picture it – you're having a blast, dancing, drinking, celebrating the marriage of an amazing couple. As the night comes to an end, your stomach begins to growl along with the music. Rather than hitting up the closest fast food joint as you leave, imagine looking over as the catering staff appears with your favorite late night munchies!
We absolutely love this popular trend. Offering a late night snack for your guests, can help to enhance your big day and will definitely keep guests talking.  
Late night snacks could include your favorite munchie foods. Anything from Sliders to Grilled Cheese with Tomato Soup shooters, even fresh made Donuts or alcoholic snowballs, the sky is the limit. 
Ideally, this would take place about an hour and a half before the end of the reception. Similarly to Cocktail Hour, you may offer snacks as a stationary item. This allows guests to enjoy as much or as little as they would like. You could also serve passed snacks, single bite items that would be offered to guests by the catering staff. If you are planning to have a party bus or after party at the hotel, you could offer "breafkast boxes" to guests as they are leaving the reception. Inside we have put everything from fresh baked bagels with cream cheese, Gatorade, red bull, advil, and even pastries.  
Serving late night snacks can help satisfy late night appetites, as well as help to absorb some of the alcohol from hours of celebrating. This is also a great idea if you are planning to invite guests to an after party. Your guests will feel rejuvenated and excited to keep the party going.